About Us
The development of advanced composites and GRP material has provided a pathway to a revolutionary future.
Ceramic Core Systems was established to enhance composite technology with a soluble ceramic core system which has few if any restrictions to shape or dimension.
For years, people in the composite/GRP industry have lived with the many limitations placed on them by conventional and outmoded systems for producing hollow parts. These systems, wax, plasters, wood and metals, have placed considerable restrictions on the size, complexity and time needed to manufacture parts.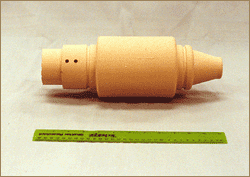 WE AIM TO ALLEVIATE THESE PROBLEMS
The ceramic core system has been developed over many years and is continuously being developed to ensure that you, the customer and end user, are provided with a product that will revolutionize the way you look at hollow parts.